Red McCombs Promise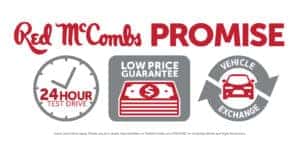 The Red McCombs PROMISE lets you know "we've got your back" BEFORE, DURING and AFTER you buy from us.
BEFORE YOU BUY, we want you to take the time you need to really get to know your vehicle through our 24 HOUR TEST DRIVE.
DURING YOUR BUY, have confidence that you are getting a great price because we stand by our LOW PRICE GUARANTEE.
AFTER YOU BUY, don't worry if you have second thoughts. We are happy to exchange your vehicle for a different one, no questions asked. We call this our VEHICLE EXCHANGE GUARANTEE.
*We do have a few legal specifics:
24 Hour Test Drive: Qualifying customers have the opportunity to take eligible vehicles for an extended test-drive of 24 hours. Customers must be aged 21 or more and have a valid driver's license plus full coverage insurance. Mileage and model restrictions apply; see dealer for details.
Low Price Guarantee: Red McCombs will match advertised prices and written offers on new Ford, Toyota, Hyundai and Genesis models in stock with matching features. Ads and offers must be: 1) from a San Antonio area dealership, 2) presented in person and 3) presented prior to purchase.
Vehicle Exchange Guarantee: Buy a vehicle from Red McCombs with peace-of-mind. If you are not happy, bring it back within 3 days and 200 miles (from date of delivery) and exchange it for a vehicle from current stock.