Join The
BIGGEST

And Best Automotive Team In San Antonio.
Red McCombs is now hiring Service Technicians, Automotive Mechanics, Diesel Mechanics, Service Advisors, Parts Advisors, Body Shop Technicians, cashiers, Service Managers and more. Apply Now and work for the BIGGEST and BEST dealership in San Antonio on the Best Automotive Team! Work for Red McCombs Automotive and enjoy competitive salary, healthy insurance, money savings plans, vacation, discounts, and so much more! When you join the Red McCombs team, you'll get the opportunity for career development through training and mentoring programs. You can even be put on the path to go all the way to you becoming a top-earning Master Technician in the industry.
With 10 dealerships, 11 service/repair shops and over 450 service bays, Red McCombs is the biggest automotive group in San Antonio and offers the most opportunity for you career.
At Red McCombs you can expect to be welcomed, well-treated and well-compensated.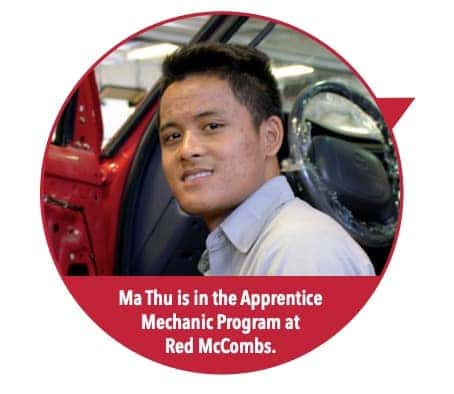 "McCombs is a great place to start. Good environment, friendly, and everyone helps each other out."
– Ma Thu is in the Apprentice Program at Red McCombs.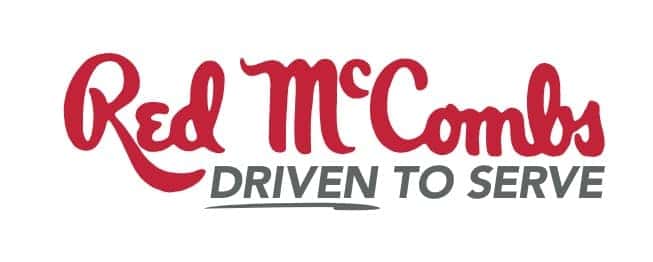 Red McCombs
PAYS WELL

And Has Loads Of

BENEFITS

.
"The people have good energy and are helpful. I like the work. Plus, the money is good."
– Just 6 months into his career Issac is an Apprentice at Red McCombs.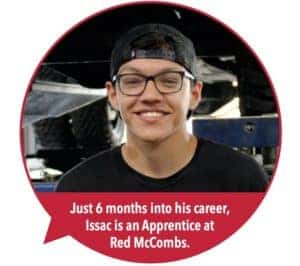 Money
Salaries at Red McCombs are highly competitive and increase with experience.
Health Insurance
Red McCombs offers health insurance plans* for you and your family.
Money Savings Plans
Red McCombs allows employees to build long term wealth, tax-free, with a 401K savings plan*.
Red McCombs funds your 401K with up to $2,500 of matching dollars* every year.
Christmas Savings plan.
Flexible Work Hours and Vacation
Flexible work schedules.
Paid vacation time, up to 3 weeks.
Paid holidays and sick leave.
Time off for jury duty and bereavement.
Employee Discounts
25% off automotive service work.
Cost-plus pricing on used vehicle purchases.
Factory employee pricing on new vehicle purchases.
Paid Education/Training
Free Tool Program1
Supportive Work-Place
Awarded Top Work-Places 11 years in a row.
Safety and People-First practice.
Friendly with team support and spirit.
Modern tools, equipment and training.
Social events through the year, including an invitation for your family to join the annual McCombs Family Picnic.
Safe and drug-free environment.