Tech
Join The BIGGEST And Best Automotive Team In San Antonio.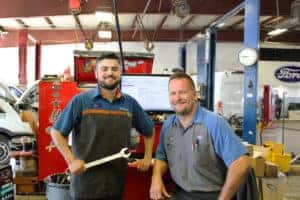 With 10 dealerships, 11 service/repair shops and over 450 service bays, Red McCombs is the biggest automotive group in San Antonio and offers the most opportunity for you career.
At Red McCombs you can expect to be welcomed, well-treated and well-compensated.

Technician Application
"McCombs is a great place to start. Good environment, friendly, and everyone helps each other out." – Ma Thu is in the Apprentice Program at Red Mcombs.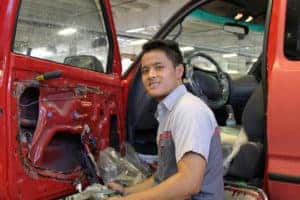 Red McCombs PAYS WELL And Has Loads Of BENEFITS.
Money
Salaries at Red McCombs are highly competitive and increase with experience.
Health Insurance
Red McCombs offers health insurance plans* for you and your family.
Money Savings Plans
Red McCombs allows employees to build long term wealth, tax-free, with a 401K savings plan*.

Red McCombs funds your 401K with up to $2,500 of matching dollars* every year.

Christmas Savings plan.
Flexible Work Hours and Vacation
Flexible work schedules.

Paid vacation time, up to 3 weeks.

Paid holidays and sick leave.

Time off for jury duty and bereavement.
Employee Discounts
25% off automotive service work.

Cost-plus pricing on used vehicle purchases.

Factory employee pricing on new vehicle purchases.
Paid Education/Training
Free Tool Program
Supportive Work-Place
Awarded Top Work-Places 11 years in a row.

Safety and People-First practice.

Friendly with team support and spirit.

Modern tools, equipment and training.

Social events through the year, including an invitation for your family to join the annual McCombs Family Picnic.

Safe and drug-free environment.
Health benefits commence 1st of month following 60 days of hire.

Team members eligible to join 401K after 1 year. Matching funds build to $2,500 over 10 years.

Christmas savings available after 6 months of hire.
Ask for details.
"The people have good energy and are helpful. I like the work. Plus, the money is good."
– Just 6 months into his career Issac is an Apprentice at Red McCombs.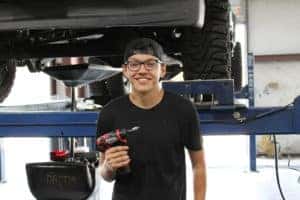 Red McCombs Gives You The BEST Training Opportunities.
Red McCombs supports your career development with training and mentoring programs,
all the way to you becoming a top-earning Master Technician.
Red McCombs pays your tuition.

Red McCombs even pays your salary while you are in classes.

If you travel out of town for training, Red McCombs pays your travel, hotel and daily living expenses.

If you are currently attending (or considering) a trade school, Red McCombs offers Trade School Tuition Reimbursement.
Conditions apply. Ask for details.
"It's the best of both worlds. You learn so much here. AND, you can also make really good money."
– Justin joined as a Service Technician in 2021.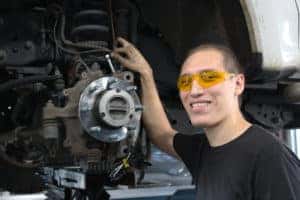 "Our training is cutting edge. We are already training on EVs. A lot of other places are not big enough to afford the investment in the training, the tools, the software. But our Technicians will have the knowledge to take care of the cars of the future."
– Shawn Barry is the General Manager of Red McCombs Ford.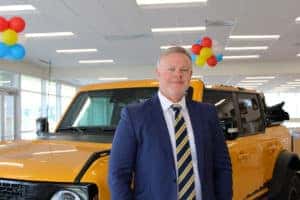 "The training programs here are excellent. Plus, Red McCombs pays for everything. On average you are looking at $25,000 to make a Master, Show initiative and they will invest a lot of money into your education… and help make you rich."
– Brett was voted Best Mechanic in San Antonio by the SA Current. He is a Master Technician at Red McCombs.
Opportunities For Significant ADVANCEMENT Because Red McCombs Promotes From Within.
"There is a lot of opportunity here. I started at the bottom and worked all the way up. My first job was as a Lube Technician. Then I was promoted to Advisor. Then Service Manager. Then Parts/Service Director. Now I am the Director of Fixed Operations and I have 124 guys that work for me."
– Everyone loves Jesse, the Director of the Fixed Operations Department at Red McCombs Ford.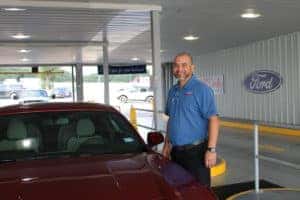 "Most of our higher up management started as Technicians. We pride ourselves on the longevity of our employees. That's what makes us great."
– Shawn Barry is the General Manger of Red McCombs Ford.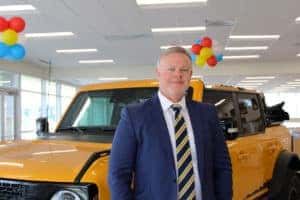 Voted TOP WORKPLACE For Over 10 Years.
The Top Work Places award only goes to companies that provide a terrific work environment. Red McCombs has won this prestigious award over 10 years in a row, more than any other automotive group in San Antonio.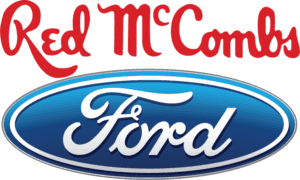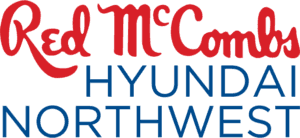 .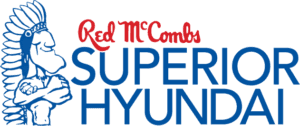 Red McCombs' APPRENTICE Program Pairs You With A Master, So You Learn From The Best.
"It's a good place to start your career. You learn fast. I haven't seen any other dealer that invests so much in their employees."
– Christian joined Red McCombs 2.5 years ago and was promoted to the Apprentice Mechanic Program.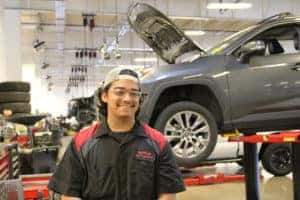 "I am an apprentice. I work under a master tech who has been here 20+ years. That's a good opportunity for me to learn."
– Htoo is in the Apprentice Program at Red McCombs.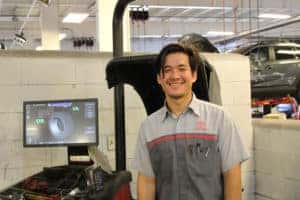 "I recommend working here. They give you 'shadow training'. You will be taught everything so that you can be successful on their own. There is hardly a day I don't want to come to work."
– Aaron is an Apprentice Mechanic at Red McCombs.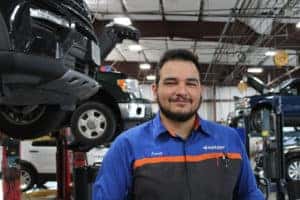 "I was promoted from QuickLane to Apprentice. The apprenticeship program is very, very good. I am learning so much."
– Eric was promoted from Lube Technician to the Apprentice Program at Red McCombs.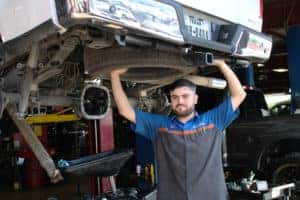 Red McCombs Is DRIVEN TO SERVE.
One of the reasons Red McCombs is a terrific place to work is because of the company spirt. And it all starts with Red McCombs himself. Red founded the company in 1953 and has had a lifelong passion to aim high in business while providing families and community opportunities to thrive.
Our Mission Statement
Red McCombs Automotive is DRIVEN to provide superior customer service and create life-long relationships by exceeding our customers transportation needs and expectations.
Our Values
Established in 1953, our company is rooted in common values instilled by our founder, Red McCombs, who is DRIVEN to succeed and give back to his community.

Today, our associates go above and beyond to serve each other and our customers. We are a family-owned business that is DRIVEN to be Honest, Joyful, Transparent, Respectful and Profitable.
Our Motto

Quote:
"You learn something new everyday. I love the environment. I love the people."
– Dean joined Red McCombs 30 years ago, but somehow looks like he is only 30 years old!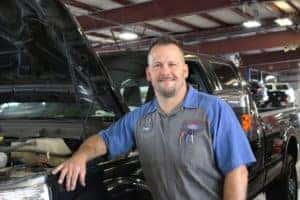 "Everybody here respects each other and management. It's a great work family. I enjoy it."
– After working at a couple other places, Michael found his family when he joined Red McCombs.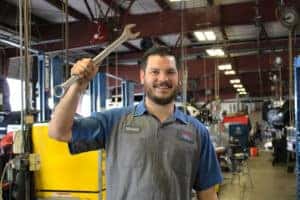 APPLY Today.
Start your application today or talk to Doug. Doug is head of all our Service Departments. He is happy to give career advice to Technicians just starting out or speak with experienced Technicians who are looking for better opportunities.
Call Doug at 210-357-1520
Email Doug at dlacroix@mccombshq.com
Quote:
"Everyone is welcome at Red McCombs. We are a family business, and we treat all team members with dignity and respect."
– Doug LaCroix is the Director of Fixed Operations at Red McCombs.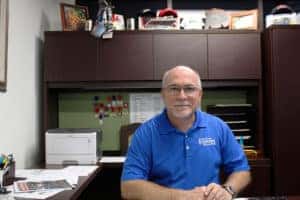 Click Here to get started or call Doug at 210-357-1520